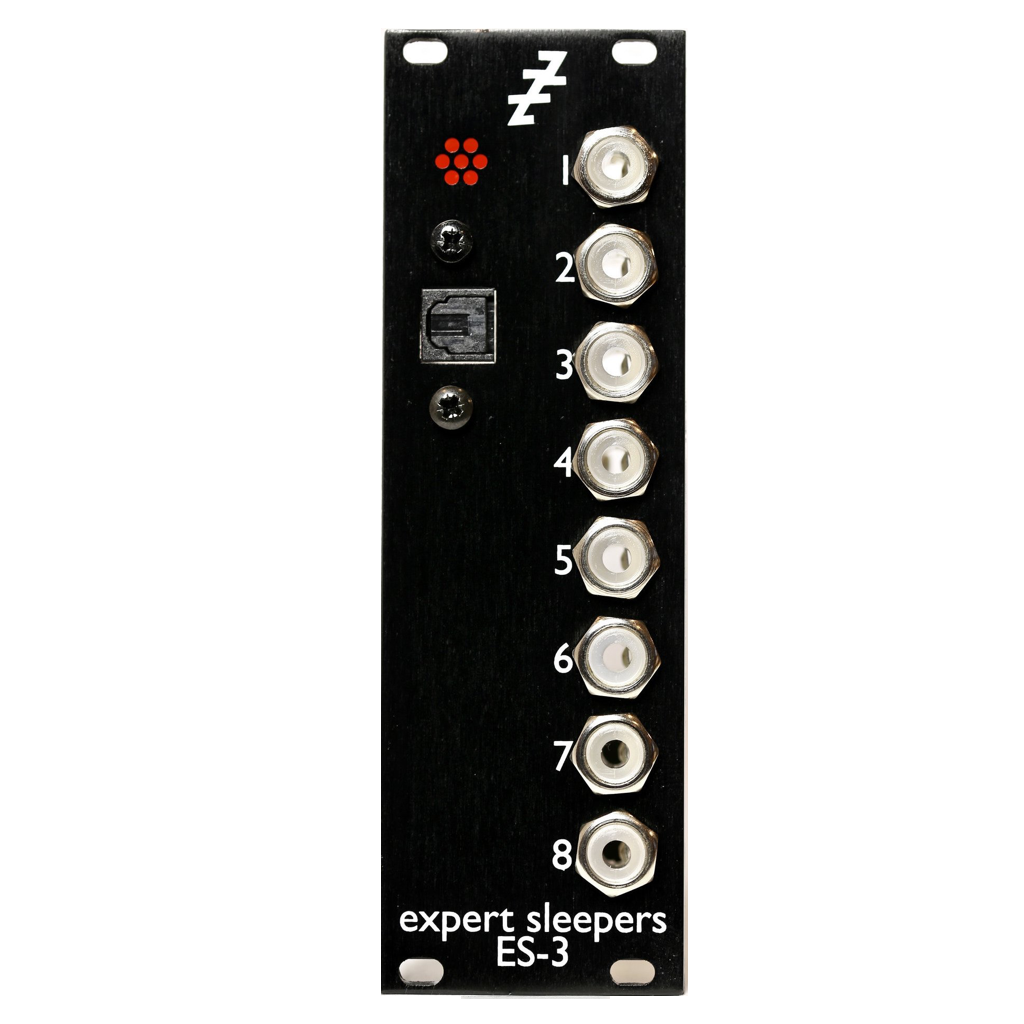 ES-3 Lightpipe/CV Interface MK4
Expert Sleepers
Regular price $245.00 Sale
Introduction
The ES-3 is a Eurorack format module which converts eight channels of ADAT Lightpipe input to DC coupled outputs on 3.5mm jacks, for the ultimate convenience in connection of a DAW directly to analogue synthesizers.
The outputs can be used as control voltages (CVs), for example with software such as Expert Sleepers Silent Way, and can also be used as audio outputs at high, modular synth-compatible levels.
With the ES-3, a single optical cable is all that is need to bring direct CV control from your DAW right into the heart of a modular system.
Reviews
The ES-3 mk3 was awarded an Editor's Choice 2014 award by Electronic Musician Magazine (Jan 2014 issue).
"Whether you use Max/MSP, NI Reaktor, or the company's own Silent Way plug-in, the ES-3 Mk3 is an essential tool for any serious modular-synth user."
Read the full article
here
.
Silent Way and the ES-3 got a great review in Future Music Magazine, Issue 239 (May 2011) - read it here.
"Silent Way is a no-brainer"
"Incredible options for controlling modular synths"
"... one of the most friendly plug-and-play pieces of hardware you'll ever have the pleasure to use."
Specifications
The ES-3's specifications are as follows:
Panel width: 8HP
Module depth: 50mm
Input connection: optical, ADAT Lightpipe standard
D/A conversion: 24 bit, 113dB SNR typical
Output connections: 8x 3.5mm jacks, DC-coupled
Maximum output voltage: approximately ±10V DC
Indicators: LED for ADAT clock sync; illuminated sockets indicate output voltage (+ve/-ve)
Current draw: 148mA on the +12V rail, 18mA on the -12V rail
The front panel is drilled for both Doepfer and Analogue Systems mounting holes (using a 'slot' rather than a single round hole). The power connector is a Doepfer standard 16 way IDC, with -12V furthest from the top of the board.
ES-3 mk4
February 2017 sees the launch of the "ES-3 mk4". Functionally equivalent to the ES-3 mk3, the mk4 adds these improvements:
Illuminated jack sockets
Less deep
ES-3 mk3
September 2013 sees the launch of the "ES-3 mk3". Functionally equivalent to the ES-3 mk2, the mk3 adds these improvements:
Higher spec DACs and lower noise circuitry
Easier access to the expansion headers
More robust ADAT port
More visible LEDs
ES-3 mk2
From January 2012 to August 2013, ES-3s were shipped marked "ES-3 mk2". These units had an identical specification to the orignal ES-3, but also included a couple of
expansion headers
. The first expansion module to make use of these was the
ES-5
.
96kHz compatibility
The ES-3 produces 8 outputs as normal when the ADAT interface is operated at 44.1/48kHz. In double speed mode (88.2/96kHz), the ES-3 outputs 4 channels, duplicated across pairs of outputs (ES-3 outputs 1/2 carry ADAT channel 1, outputs 3/4 carry ADAT channel 2 etc.).
However, users of Silent Way can take advantage of the Silent Way SMUX plug-in to interleave CVs on the 96kHz stream, restoring the number of usable CV outputs to 8. (See the video below.)