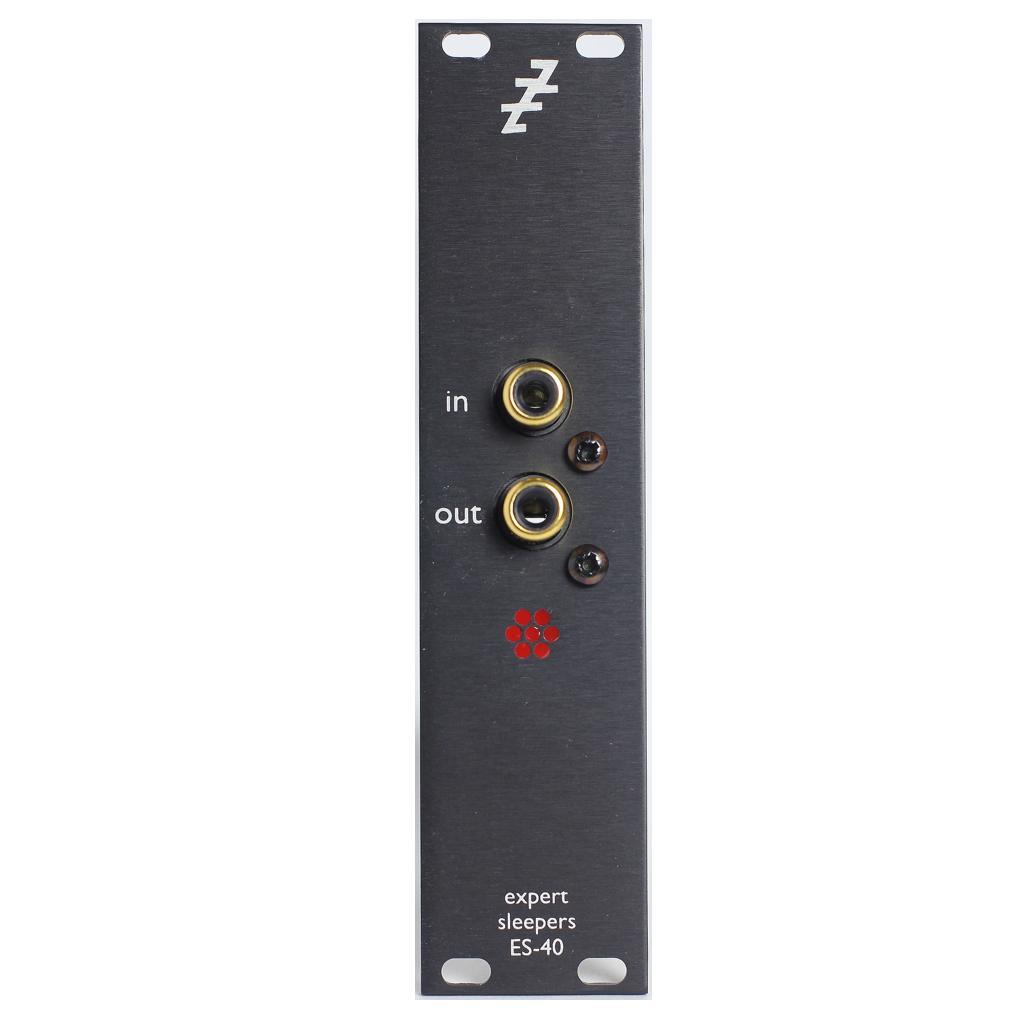 ES-40 SPDIF Interface
Expert Sleepers
Regular price $143.00 Sale
The ES-40 is a Eurorack format module which converts a standard S/PDIF input to five channels of expansion headers, which are used in conjunction with the Expert Sleepers ESX range of expanders (currently including the
ESX-8GT
, the
ESX-4CV
, the
ESX-8CV
and the
ESX-8MD
).
The ES-40 will connect to any audio device using the S/PDIF standard. This includes the digital audio output provided as standard on many recent Macs (more info here on the Mac connection).
The ES-40 also includes an S/PDIF output for sending data back to the computer. This output is used by expansion modules connected to the ES-40; currenty, the only such module is the ES-7 CV Input Expander.
The ES-40 is essentially an ES-4 with the DACs and CV outputs removed. Much of what has been written about the ES-4, and many tutorial videos etc., still apply to the ES-40.
Suggested combinations
The ES-40 does nothing by itself, but forms the basis of a very configurable system. Simply add the expansion modules you need. Here are some ideas:
Specifications
The ES-40's specifications are as follows:
Panel width: 6HP
Module depth: 51mm
Digital input: coaxial S/PDIF, standard rates up to 192kHz
Digital output: coaxial S/PDIF
Indicators: LED for S/PDIF sync lock
Expansion

5 headers for connecting ESX series modules
Digital audio I/O header (I2S format) for input expansion (e.g. ES-7)

Current draw: 26mA on the +12V rail only (rises with sample rate; 26mA at 48kHz, 32mA at 96kHz etc.)
The front panel is drilled for both Doepfer and Analogue Systems mounting holes (using a 'slot' rather than a single round hole). The power connector is a Doepfer standard 16 way IDC, with -12V furthest from the top of the board.
For more detail, please see the user manual.
Software Requirements
Unlike the
ES-3
, the ES-40 requires particular software in order to generate meaningful output signals. Currently, the only such software is the 'ES-4 Controller' plug-in, part of Expert Sleepers
Silent Way
, and our Max/MSP external (see below). Note that the ES-40 works with all software written for the (previously available) ES-4 - software-wise, the two are interchangable.
Silent Way is available in AudioUnit, VST & AAX formats for Mac OS X and Windows. Use of Silent Way therefore requires a compatible host application (DAW).
A Silent Way licence is not included with the ES-40 - however, the ES-4 Controller plug-in functions in a licence-free mode, so ES-40 users are not forced to buy Silent Way. Such users can than evaluate the rest of the Silent Way suite in demo mode.
See the tutorials page for a selection of videos that illustrate the software side of the ES-4.
Max/MSP External

We provide an 'external' for Max/MSP to enable users of Max to easily integrate the ES-40 into their patchers. This can be downloaded from the
downloads page
.