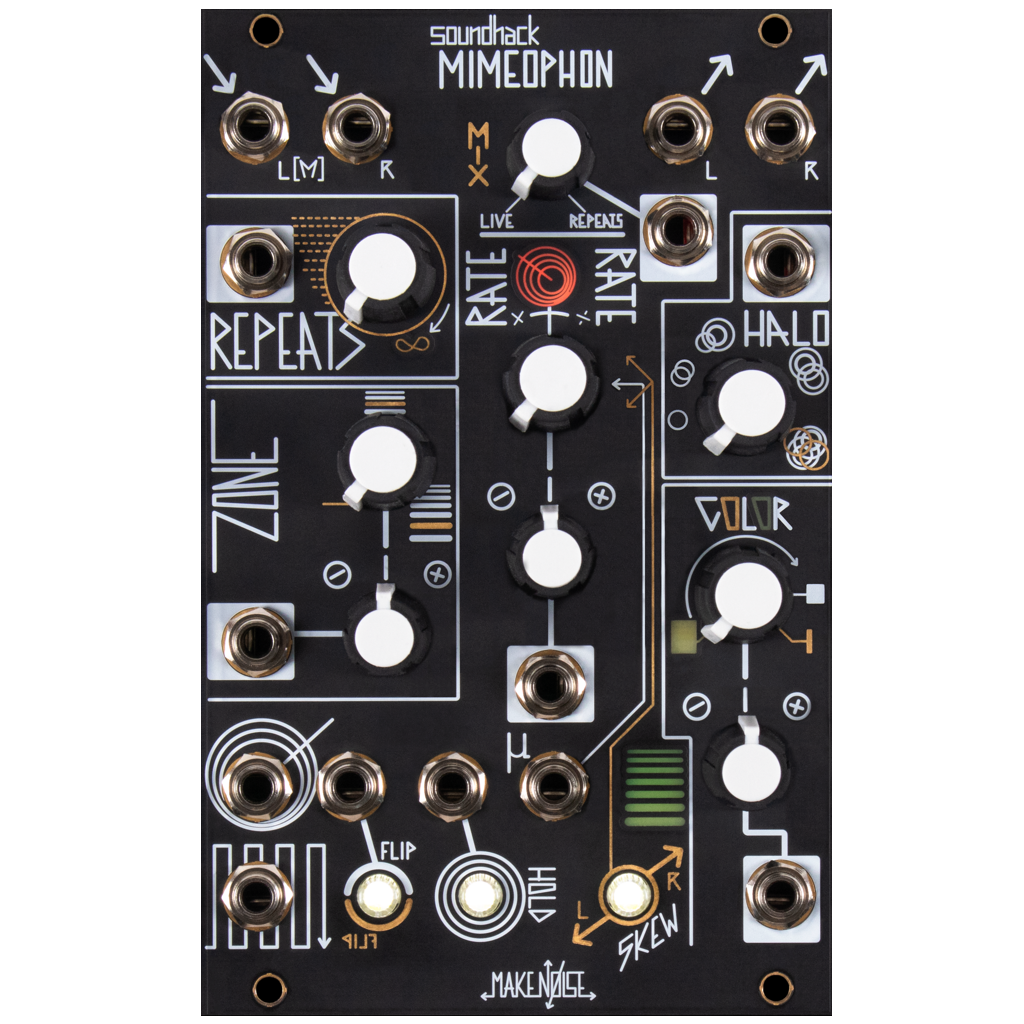 Mimeophon Stereo Multi-Zone Color Audio Repeater
Make Noise
Regular price $409.00 Sale
Overview
Mimeophon is an innovative stereo digital delay effect with multiple zones designed by Make Noise and Tom Erbe of Soundhack, putting it in the same family as Make Noise's Erbe Verb, Echophon, and Morphagene. It is a modern version of vintage delays with some features found nowhere else in other eurorack delays. 
It can take mono or stereo audio signals and spatialise them into stereo sounds - the skew button can offset the repeat effect differently between the left and right channel to instantly create a wide stereo field. The Halo feature creates stereo smearing effects, while Color focuses feedback into particular ranges for an evolving timbre.
All of the parameters of the module can be voltage controlled with CV or gate. As a stereo effect it makes a perfect companion to Make Noise's other stereo modules. Like QPAS and Morphagene.
Delay times can be synced to a clock and range from 1.3ms to 41 seconds, allowing its sound to range from a flanger effect to a delay to a looper. Several different delay algorithms include Karplus-Strong, flange, chorus, echo and looping, and they can all be continuously morphed between. 

Features
Full Stereo In and Out, or Mono In to Stereo Out

Morph between different algorithms, Color-coded by LED: Karplus, Flange, Chorus, Echo, Looping and everything in between

Rate continuously controls Repeats frequency within Zones

Skew controls Repeats differently for Left and Right channels

μRate creates small Doppler-effect Modulation

Tempo Sync for Doppler, Free modulation of Rate, create complex repeat patterns

Repeats range from short to infinite and beyond

Halo smears Repeats in stereo space

Color focuses feedback energy for timbral shifts over time

Rate Out generates Pulses at Skewed Tempos, allowing more connectivity within the modular system

Zones may be Flipped for backward repeats

Non-destructive infinite loops by holding the sound

Fully Voltage Controlled Time, Space and Color modulation algorithm

| Format | Eurorack (Doepfer) 3.5mm Jack |
| --- | --- |
| Functions | Effects |
| INS / OUTS | 12 ins / 2 outs |
| Expander | N/A |
| Dimensions |  3U |
| HP | 16 |
| Max. module depth | 30 mm |
| Power | +12V: 100mA, -12V: 10mA |
| Weight | 0.2 kg |
| Manufacture Page | Mimeophon |
| Manual | mimeophon-manual.pdf   |