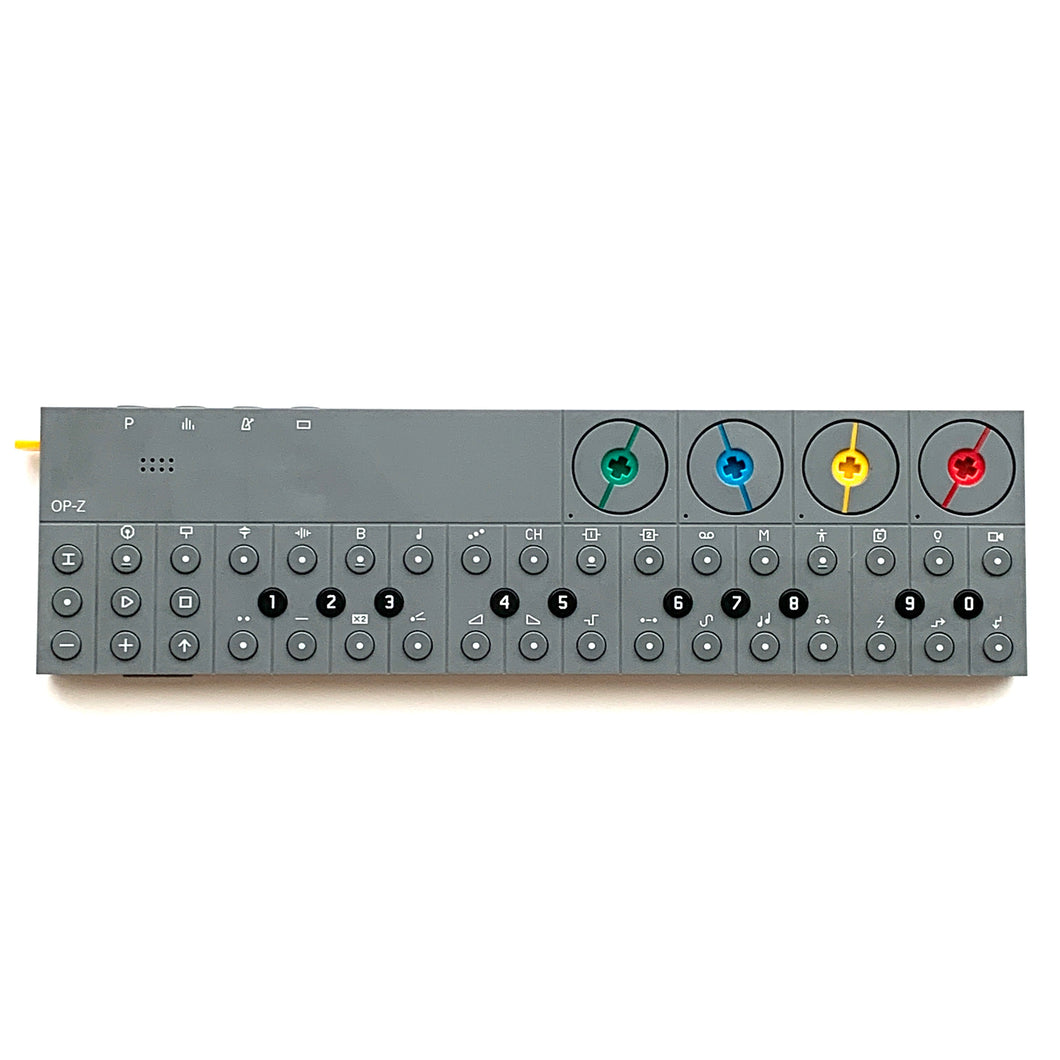 OP-Z Multimedia synthesizer and sequencer
Teenage Engineering
Regular price $523.00 Sale
Overview
The OP-Z is an extremely compact synthesizer, sampler, drum machine. It can not only sequence the above components (with effects, parameter locks, and countless bells-and-whistles), but it can also sequence lighting systems, visuals, and even photos on an iOS app, making it the first all-in-one music and multimedia sequencer capable of simultaneously controlling all aspects of a live performance from the stage. Despite its depth of features and potential for complexity, its pencil case size means that it can also be taken on the road for simple and fun jamming - perfect for long commutes or for time away from a screen.
Combining parameter locks and sequences of different lengths can lead to a world of generative sequencing, which will appeal to modular synth users. Furthermore, when combined with the Oplab Module ZM-1 (sold separately), the OP-Z can also interface with the Pocket Operators, modular synths or any other gear that uses CV and gate signals!
Hardware features include a usb-c host and device, wireless communication over ble, 4-pin 3.5 mm stereo headphone and line-out, accelerometer, user replaceable battery and built-in microphone (comes with a USB-C to USB-A cable).
Details
analog devices blackfin 70X dsp
cirrus logic audio co-processor
1250 mmacs
48kHz 24-bit dac
115 dB dynamic range

6 axis motion sensor

integrated mems microphone

bluetooth 5.0 LE

6 hour battery life

1 year stand-by time

user replaceable

Li-Ion 740 mAh

usb type c

3.5 mm 4-pole jack

2 octaves of musical keys

51 mechanical keys in total

pressure sensitive pitch bend

4 x multi purpose color coded high resolution encoders

volume knob / on switch

pairing button

29 rgb+w led indicators

24 w led indicators

rigid engineering plastic housing 

IXEF 1022 PARA + 50% glassfiber

teenage engineering designed floating ball bearing hall sensor encoders for minimal stacking height and wear

L 212.5 mm, H 57.5 mm, D 10 mm

+ 6 mm length for volume knob

included in package

usb t

ype c to usb a for charging 

and cont

rol
| Format | Standalone |
| --- | --- |
| Functions | Synthesizer, Sequencer, Sampler, 3D Video Sequencer, DMX Lighting controller, CV sequencer (with expander) |
| INS / OUTS | 1 USB in/out, 1 microphone in, 1 stereo output, additional expandable outputs |
| Expander | Oplab Module ZM-1, Mini MIDI Adapter Kit (with ZM-1), OP-Z Grip Knobs, Roll Up Bag, iOS devices for screen |
| Dimensions | 22cm x 5.5cm x 1cm 11" x 2.9" x 0.5" |
| Max. module depth | N/A |
| Power | USB-C or batteries |
| Weight | 258 g |
| Manufacture Page | |
| Manual | |