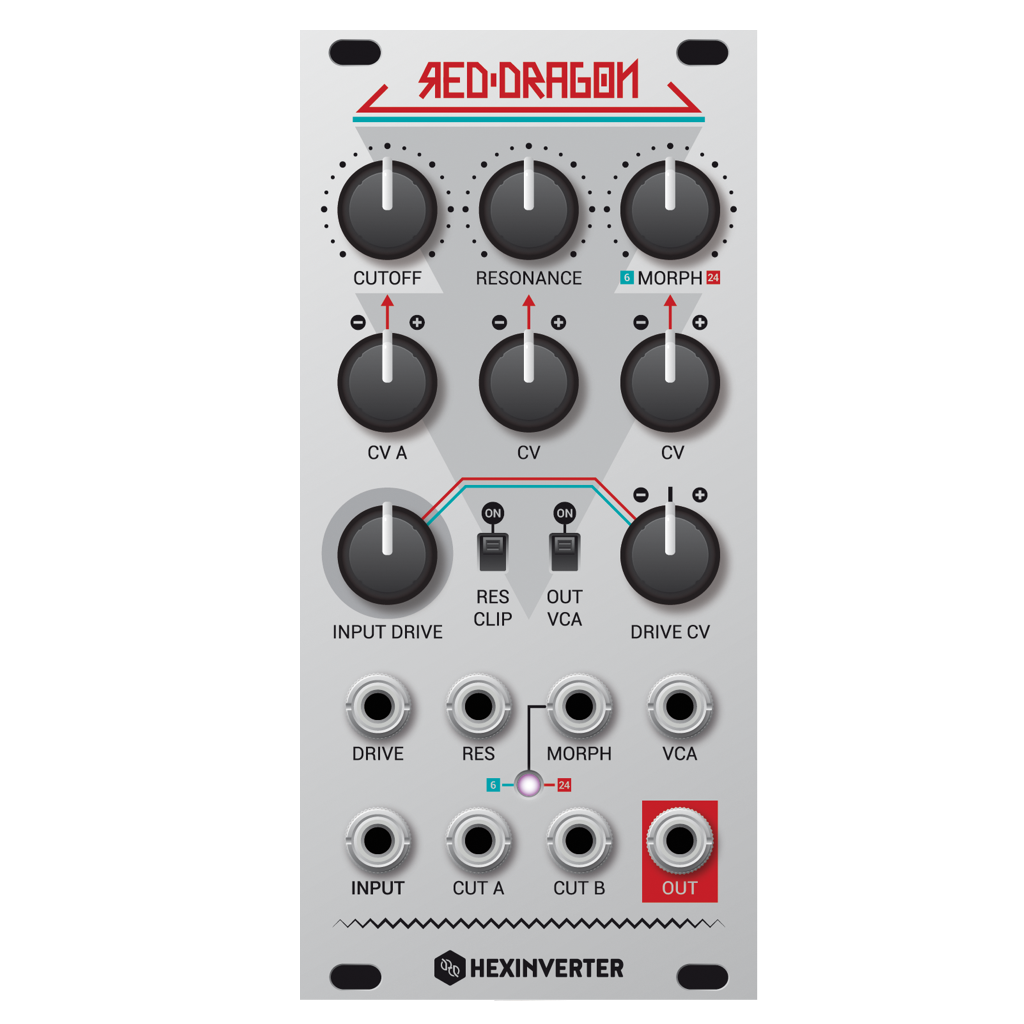 Red Dragon
Hexinverter
Regular price $253.00 Sale
THE RED DRAGON
Soviet topology 4-pole morphing low-pass filter
>> 12HP | 30mm DEEP | $249USD | +35mA, -35mA
>> EURORACK FORMAT MODULE
>> NOW AVAILABLE
The Red Dragon is a 24dB/oct 4-pole low-pass filter realised with a unique Soviet-era filter core. The curious filter structure of the Red Dragon favours character over precision; sure to impart colourful tone in your source material.
During the 1980's, a Russian electronics designer realised that one could build a musical filter using a fairly unconventional method. Unlike most other filter topologies, this method did not use capacitors to employ an RC time constant in its core filter stages. Instead, the internal properties of a programmable amplifier chip are modulated by a special "programming" input found on these devices. One of the modified properties is bandwidth of the amplifier. Changing this particular attribute over time effectively limits the frequencies that can pass through the amplifier, resulting in filtering! Because attributes other than bandwidth are also changing at the same time, this filter stage has instabilities at certain frequencies along the audible spectrum, resulting in colourful distortions and a character all of its own. The resonance's character is especially profound, resulting in bubbly and sometimes screeching sci-fi tones. The Red Dragon achieves a 24dB/oct resonant low-pass response by cascading four of these stages. What's more, you can morph between the two pole extremes (6dB and 24dB) to change the slope of the filter on the fly, either manually or through voltage control.
Rich 4-pole filtering with a control set made just for modular synthesizers
Designed from the ground up for versatility in the modular system, the Red Dragon features bipolar attenuverters on its many CV inputs
Voltage controlled resonance
Resonance is capable of self-oscillation. A resonance clipping switch can tame the resonance feedback at extreme settings, resulting in different tone 
Built in VCA (with disable) after filter saves you the use of a dedicated VCA module
Signal and CV levels optimised for the contemporary eurorack modular system (+/-5V CV, 10Vpp+ audio)
Filter morphing
Morph between 6dB and 24dB filter slopes, or set it in-between. While 24dB excels at meaty bass sounds, the brighter filter slope of 6dB is sometimes desirable for signals with higher frequency content
Filter morphing is voltage controlled, and results in some interesting effects when modulated
A dual colour LED indicates filter morph position and VCA level
Core overdrive
Built-in filter core overdrive at the input stage allows you to vary your signal's level up to full saturation. No need to boost signal level before filtering for those classic overdriven sounds!
Voltage control of input drive lets you modulate the saturation of the filter over time. Useful for the "velocity" modulation needed to produce acidic basslines!