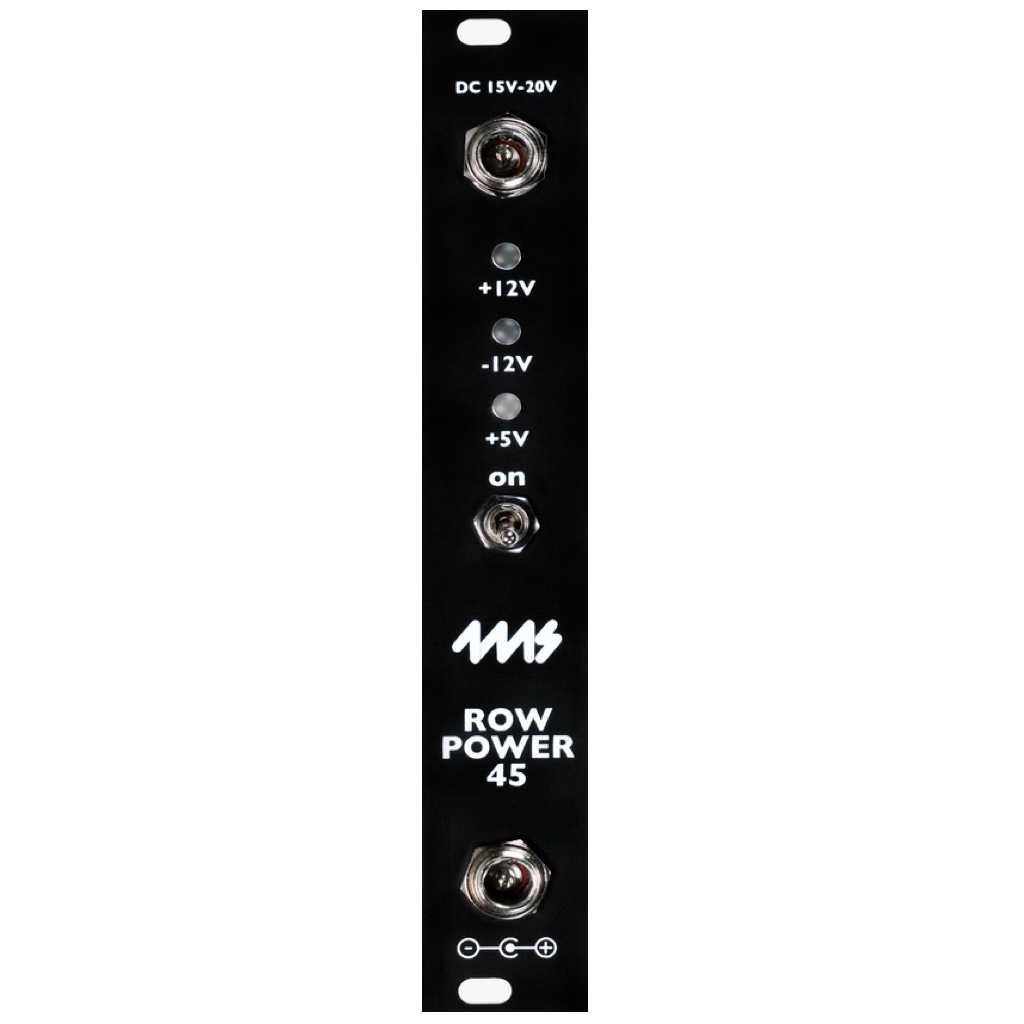 Row Power 45 [RP45]
4ms
Regular price $170.00 Sale
Row Power is a clean, regulated, and protected power solution for Eurorack systems. Row Power 45 provides enough power for two to three typical Eurorack rows (typically up to about 312HP):
+12V @ 2.0A maximum, 1.5A recommended
-12V @ 1.4A maximum, 1.2A recommended
+5V @ 1.5A maximum, 1.2A recommended
Simply plug a universal power supply (laptop style) into either of the barrel plugs on the 4HP panel. Connect your modules via flying-bus cablesor the Bus Stick. For custom power systems, the Row Power 45 has a set of easily soldered holes for using large gauge wire or MTA156 connectors to connect to distribution bus boards.
Multiple Row Power modules can be powered from a single power brick by daisy-chaining with an inexpensive barrel cable. The Row Power 45 can also be daisy-chained to 4ms Company's Pod enclosures. Each power supply is independently regulated and protected for ultra-low cross-talk between rows/pods.
The Row Power 45 is compatible with the 4ms Row Power Shield. This device (forthcoming, to be sold separately) attaches to the back of the Row Power 45 and monitors the amount of current being drawn, as well as the voltages of the power rails. The information is sent over Bluetooth to be displayed on a phone or tablet.
Basic Features:
Two power jacks for daisy-chaining multiple Row Power units: a common laptop-style power brick could typically run 3-5 rows or Pods
On/off switch cuts power without interrupting the daisy-chain
Row Power 45 provides more than enough power for three typical rows of modules.
Ultra-clean: Each rail is separately regulated with high-grade components
Runs cool: Row Power 45 is efficient so it won't heat up your system.
Skiff-friendly: only 27mm (1.01") with power connectors installed.
CV/Gate headers for expansion
Solder holes for DIY/custom power distribution boards: fits MTA156 headers or 14 AWG wire
Compatible with 4ms Power Watcher BT, which connects to header on back of RP45