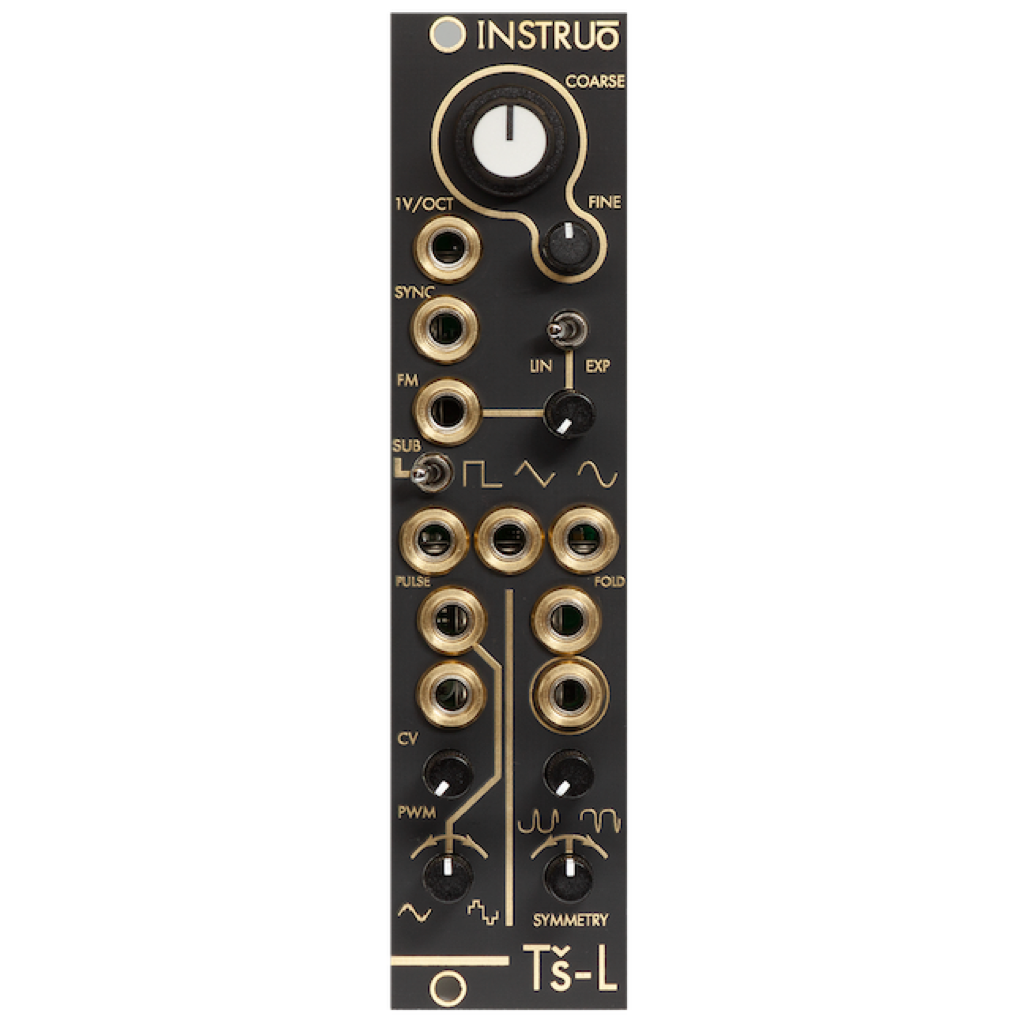 Ts-L
Instruo
Regular price $322.00 Sale
The Tš-L was designed specifically to pack a lot of versatility into a small form factor.
It uses a triangle core circuit at its heart which generates an extremely stable waveform over a wide frequency range. This foundation waveform is used to generate its sine wave which holds form and amplitude consistency across an extremely wide output range.
The sub output can produce square waves at one or two octaves below the defined triangle/sine frequency. When outputs are combined at a mixer, extremely rich tones can be achieved very quickly.
The PWM output generates two waveforms that can be crossfaded between. 
With the the blent pot fully clockwise, the waveform will form a double pulse shape in which the high and low pulse's widths can be defined by the pot and/or an external CV signal. This waveform crossfades to a unique split triangle shape that is shaped by the same pulse width control signal.
The wavefolder output is a derivative of classic west coast 'timbre' circuits. It is driven by a second sine wave, shaped from the triangle core. The symmetry pot is an accessible offset parameter  typically used to calibrate symmetrical curves in a wave-shaped sine wave. 
In line with the wavefolder, this symmetry becomes an additional timbre control that shifts the harmonic overtone makeup of the final waveform.
The fold CV is normalised to an internal voltage reference, turning the fold pot into an attenuator when external CV is used.
6HP
Power
+12V: 80mA
-12V: 75mA
Depth: 42mm
Triangle core analogue oscillator
1V/octave, Coarse and Fine pitch controls
Oscillator soft sync
FM input with attenuator with selectable linear or exponential ranges
Sine
Triangle
Sub square (1 or 2 octaves below fundamental)
PWM - variable split triangle/double pulse square, CV controllable
Wavefolder with symmetry control and CV over fold depth